Data Integration Promotes Efficiency through Visibility
Aceyus designs robust data integration, reporting, and analytics solutions to provide a centralized visualization of relevant data in real time.
Digital Transformation Requires Trusted Data Integration
To thrive in this digital age, companies must transform into customer-obsessed businesses that meet accelerated and ever-changing expectations. Data in disparate systems is at the center of this transformation. If not aggregated, integrated, normalized, and organized, this data becomes, at best, a non-factor and, at worst, a liability that can damage a business.
Data integration helps enterprise businesses increase operational speed and agility to deliver a connected, frictionless customer experience.
Anticipate what customers need and want
Empower customers to have control over data
Integrate customer data segments into a single view
Aceyus helps accelerate the value of data to magnify impact , maximize growth, increase efficiency, and minimize risk.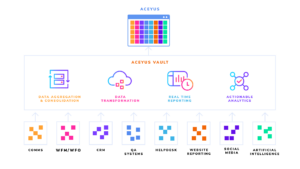 High-Quality Integrated Data from a Single Source Creates Accelerated Value
Reliable, high-quality, integrated data is essential for businesses. Accessing trusted data amid increasing volumes and data silos can be a painfully slow process. Legacy systems—difficult and costly to upgrade, integrate, and scale—increase the pain. Internal and external data consumers require access to reliable, insight-ready data to power decisions and drive business value. And they need data immediately—not in a few weeks, days, or even hours from now.
Integrate and optimize data for action to provide customers with an exceptional user experience that is consistent, intuitive, and frictionless—no matter how or when they interact with a company.
Fuel downstream operational and AI systems with comprehensive, accurate data in real time at the speed of business, at scale.
Accelerate the value of data by adopting up-to-date, cloud-based data management.
Every interaction and transaction in today's digital world creates data. How you integrate and apply that data determines how well your business succeeds. We are here to help you navigate your digital-transformation journey from disparity to visualization.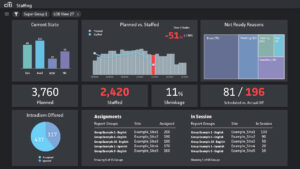 Integrated, Connected Data in Real Time Maximizes Business Impact
Aceyus VUE is a cloud-based Software as a Service (SaaS) offering for disparate data aggregation, integration, normalization, visualization, analytics, and reporting. We bring core enterprise data together: customers, products, locations, vendors, partners, and assets within our data warehouse, the Aceyus Vault, which stores enterprise data as well as customer relationships, interactions, and transactions.
Aceyus creates a comprehensive, trusted data foundation—a single source of information that customers count on. Aceyus VUE continuously unifies, cleanses, standardizes, and enriches data to fuel real-time operations.
Better understand your customers and their end-to-end journeys
Become a more customer-centric business
Increase sales and customer loyalty
As your business changes, you expect your data application to adapt. Aceyus VUE is agile enough to fit your needs now and in the future. It scales with you and connects new sources of data faster and easier than you might expect. Aceyus VUE also provides reliable enterprise-class cloud security. So, your organization becomes more resilient as you accelerate data value creation and fuel its ongoing effectiveness.
Aceyus VUE is a revolutionary step forward for extending the availability and power of data to those who need it.

Improve Customer Experience
We know you want healthier relationships with your customers. You want to offer the best possible user experience, anticipate needs, and cover all methods of interaction. With legacy systems and fragmented data, that's not easy. We make it easier. Our advanced solutions continuously unify and curate all your customer data from disparate channels, brands, and businesses. It can even tie in your old systems, too. See the full picture in real-time, take action that improves the customer experience, and increase revenue. An excellent customer experience is more than a connected, consistent user interface. We help you focus on your customers holistically. So, you can be responsive to them in all possible ways—from onboarding to delivery of hyper-personalized offers. From sales activities to customer service and support. And, of course, we help you protect their data and use it in accordance with their preferences and consent.
This adds to your bottom line in several ways:
Happy, loyal customers buy more products or services from you, contributing to higher customer lifetime value and revenue.
They trust you, and they speak well of you in social media, which increases your brand reputation and attracts new customers.
Your increased knowledge of your customers and their relationships increases cross sell and upsell opportunities.
Great customer experiences are the ultimate win-win scenario.
Improve Operational Efficiency and Optimize Processes
The longer you've been in business, the more likely it is that you suffer with disparate systems, manual processes, and poor data quality. Consequently, you can't get reliable data when you need it. Or you make decisions based on incomplete, outdated, and stale information.
Aceyus unifies your multi-sourced, complex data into a simple, single source of trusted information. So, you have a complete picture of your operations, all in real time. When you add additional applications, whether on premise or in the cloud, you can integrate them easily using our API-first approach. Poor data quality is often worse than no data. We provide you with the tools to get it right to correct your data in Aceyus or at the source. We provide automated data validation rules and matching to make it faster and easier. Resultantly, you reduce manual efforts and streamline your operations. You become more productive. And you ensure that accurate data is available to those who need it. When they need it.
Instantly share this trusted data with your downstream applications—advanced analytics, machine learning, AI, and more—to gain immediate insights. Make better decisions faster. Unlock innovation and new high-value use cases to become a more agile, data-driven organization. And gain ground on your competitors as you reduce operational costs and improve productivity.
Simplify Compliance
Regardless of your industry, you deal with regulations that impact your business. Compliance is mandatory. Non-compliance incurs penalties, fines, bad publicity, damaged reputations, and loss of customer trust. Data protection and privacy regulations are primary considerations. People have the right to determine who accesses their information and how it is used. However, this is challenging when you have many sources of personal data across your landscape.
Accelerate Your Success with Integrated Data
Today's most successful businesses are data-driven. They channel and analyze data to make informed decisions more quickly to deliver great customer experiences. They rely on high-quality data to improve profitability, manage risk, and gain a competitive edge. Your business is no different. With a constant supply of clean, compliant, comprehensive, and integrated data, you have a much clearer picture of your customers and your operations. Now, you can focus on making the right decisions, instead of worrying about getting the right data. Aceyus helps accelerate the value of your data to maximize your impact every day. We believe that when you are empowered with insight-ready data, it's nothing less than rocket fuel for your success.
WHY ACEYUS?
We believe data should accelerate your success, not hold you back. Our exclusive data-management SaaS offering unifies and cleanses multi-source, complex core data into a single source of trusted information. With the agility to fit any company's needs in real time. Aceyus helps you act on your data with confidence. And maximize your impact every day. Learn more. Visit www.aceyus.com.