Contact center managers often have questions about the value of their metrics. These include the following:
Is this the right metric to use for my contact center?
What's the best metric for measuring CX?
We're tracking all these metrics, but our C-level executives don't seem to care about them. What should I do?
These questions are all perfectly reasonable, but the short answer is that the most important metric to report to your C-suite isn't any of the most popular metrics such as Customer Satisfaction (CSAT), Net Promoter Score (NPS) or Forrester's Customer Experience (CX) Index™. C-level executives are less focused on tactical metrics and more focused on money, whether it's margins, profits or revenue. Consequently, contact center managers need to relate metrics to dollars and cents when discussing them with their C-suite.
What metrics do C-level executives really care about?
You need to understand what C-level executives care about if you want to know which metrics to use in your CX measurement programs. They care about money, whether it's cost reduction, profitability or revenue growth. They also care about stock prices if their company is publicly traded. These metrics remain foremost in their minds, whereas typical CX metrics such as CSAT and NPS are really just afterthoughts.
The earnings of C-suite members are tied directly to the financial performance of their company, as these executives often receive bonuses far in excess of the typical workers' salary when profits, revenue and stock price go up. Similarly, they'll eventually be ousted from their position when these metrics don't improve. The careers of C-level executives usually comes down to a matter of getting rich or getting fired, so it's important to understand that when discussing contact center performance with them.
It shouldn't surprise anyone to learn that the metrics of interest to C-level executives all have dollar signs in front of them. In particular, they want to know how CX projects have made or saved money for the company. They need specific information that doesn't require them to make the connections between money and metrics like CSAT or NPS.
As an example of the wrong way to communicate a CX project's success to executives, many contact center managers use language like the following: "We redesigned our login process, which made our customers 20 percent happier." While this statement is specific and the statistic is presumably backed by data, it isn't connected to money. A more effective statement would be something like "We redesigned our login process, which is saving $4 million per year due to customers using self-service instead of calling a customer service agent." This example occurred in real life, as described in Outside In.
Revenue and profit are critical issues for the C-suite, so connecting CX with these metrics should be equally important for contact center managers. A 2020 report on CX shows that contact centers are able to hire and promote CX professionals at the senior level when they're able to establish the economic value of CX. It also shows that organizations reduce or end their CX programs when they're unsure of the economic value of CX, resulting in the loss of CX professionals.
How can you prove that CX means dollars and cents to the company?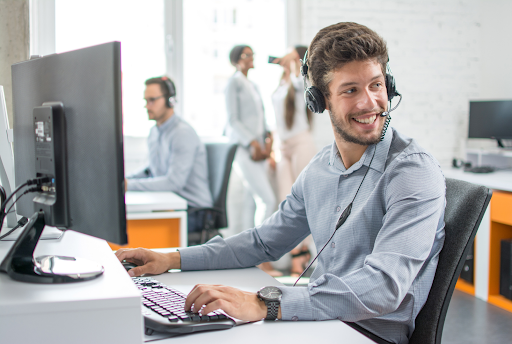 Good customer service benefits organizations by increasing revenue, reducing customer turnover and improving customer satisfaction. However, these relationships aren't always easy to prove to upper management. According to a 2020 survey, contact center managers report that a lack of understanding of the dollar value of CX remains a top challenge in contact centers.
Executives provide buying power to those departments that show the highest return on investment (ROI). It's therefore up to contact center managers to explain to executives why the contact center is a mission-critical department and how investing in it will move the company forward. The way in which you manage your contact center therefore directly affects customer satisfaction and your company's bottom line. The following seven rules explain how the contact center adds value to an organization.
1. Good customer service generates revenue.
Executives usually have no trouble believing that good customer service saves revenue, but many of them are surprised to learn that it can actually generate revenue. CMS Wire reports that 25 to 40 percent of a company's revenue comes from repeat customers. Studies also consistently show that the great majority of customers are more likely to buy from a business that previously provided them with great customer service. The way in which a company maintains its customer relationships has a direct effect on growth. Customer satisfaction and the loyalty it generates for a company is therefore critical to increasing its revenue.
2. The customer service that a company delivers influences brand loyalty and future buying decisions.
Customer service interactions affect the purchase decisions of 70 percent of customers, according to Salesforce. These customers also seek interactions that personalize their experience based on previous communications. Help Scout reports that the majority of Americans have canceled a plan purchase due to poor customer service.
3. Coaching agents improves the quality of their service.
Managing agents by coaching them shows that you'll listen to what they have to say, making them feel empowered and valued. Research by The Dean Sydney Business School at the University of Wollongong illustrates the value of manager-led coaching in improving customer service and agent productivity. Manager coaching improved the customer service of the organizations in this study by 450 percent within five months, showing the benefits of investing in employees. Frequent coaching also provides agents with greater clarity on a contact center's expectations, goals and performance, since agents know where they need to improve the most. Furthermore, coaching provides agents with greater enjoyment in pursuing these goals.
4. Workforce optimization and engagement improve productivity.
Executives often view contact centers as a necessary expense that doesn't directly increase revenue, resulting in a tendency to reduce its costs as much as possible. Budget-trimming measures like cutting agent hours may protect executive bonuses over the short term, but they don't normally increase performance. Long-term gains in this area require practices that empower agents to optimize their work environment, which managers often measure with metrics like First Call Resolution (FCR) and Average Handle Time (AHT).
The right software tools are often the key to improving these metrics. A leading fintech company recently reported that it was able to reduce its AHT by four percent within a few weeks after migrating to a work-from-home environment. This drop in AHT will save an estimated $760,000 per year, largely through a combination of tools and agent support.
5. Upfront investment in agents increases retention.
Coaching agents reduces the risk of burnout, which is notoriously high in contact centers. Agents who know their value and feel supported by management require less emotional effort to do their jobs, but benefit requires a consistent investment in coaching, training and the development of career paths. Burnout is directly related to attrition, so it's relatively easy to assign a dollar value to this benefit of a contact center platform. For example, Customer Think reports that a 100-seat contact center can save between $176,000 and $600,000 per year by reducing agent attrition five percent.
6. Engaged employees are more productive.
The annual cost of actively disengaged employees in the U.S. is between $483 billion and $605 billion, according to a 2019 Gallup poll. Furthermore, agents spend an estimated 10 to 20 percent of their call time searching for information, assuming they must navigate between three and five screens. This loss of productivity is equivalent to between $875,000 and $1.8 million in flow-through equity (FTE), assuming a 250-seat contact center with an average agent salary of $35,000 per year.
Contact center managers and higher executives are largely responsible for ensuring agents remain connected to their purpose. Managers need to keep their agents informed about the quality of their metrics and their progress towards performance goals. Once agents become engaged in their work, productivity and other business outcomes can rise dramatically. Gallup reports that companies in the top quartile with respect to agent engagement receive an improvement of 21 percent in profit, 20 percent in sales, 17 percent in productivity and 10 percent in customer outcomes.
7. Streamlining your contact center technology reduces lost productivity.
The consolidation of systems is one of the most significant factors in reducing agent workload and often a major reason that agents leave a contact center. Organizations with a unified technology stack are 131 percent more likely to exceed their goals, according to Sharpen. However, a 2015 white paper by Five9 reports that 92 percent of contact-center agents believe their agent-facing applications aren't as effective as they could be.
Linking better technology with the other essential components of a contact center can improve its performance and provide better customer outcomes by making agents' daily work easier. Decades of data consistently show that happier employees lead to happier customers, resulting in a clear link between streamlined technology and your company's bottom line. These facts are backed by data, which should make it easier to obtain executive buy-in when making the business case for a new platform in your contact center.
What metrics should a call center dashboard track?
Call center dashboards may generally be classified into two broad categories, including agent performance and call center performance dashboards. Both types provide C-level executives and direct managers with the ability to assess the relevant performance at a glance. These dashboards typically allow the user to specify a variety of data filters, including date ranges and individual agents. They commonly track the following categories of metrics:
Call center statistics
Call center performance
Agent performance indicators
Average wait time trends
Average talk time trends
Call Center Statistics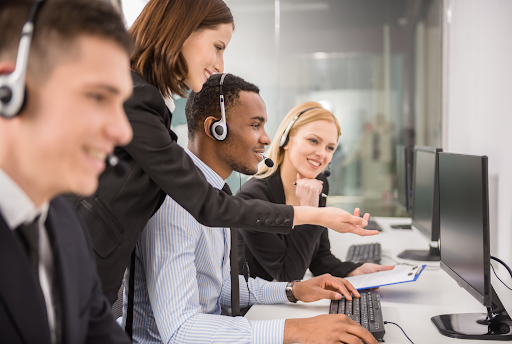 Dashboards typically represent high-level call center statistics in data tiles, which allows the user to quickly review the most important call log metrics. These metrics describe the call center's overall health, so managers need to track them at regular intervals and ensure the call center's optimal functioning. Call center statistics include the total number of calls registered by the system and missed calls that were never picked up by an agent. The number of outbound calls made by agents and inbound calls answered by agents are also important call center statistics.
Call Center Performance
The widgets in a dashboard allow you to obtain metrics on the calls made in your contact center. They also let you analyze call behavior during a specified time as well as changes in call volume over time. For example, you can use a dashboard to easily identify the hours in the work day with the greatest percentage of missed calls and the reasons those calls were missed. Other ways that a dashboard can analyze call center performance are by looking at the hours with the greatest activity for a given timeframe, which can help identify days that require extended working hours.
Agent Performance Indicators
These metrics describe how well agents handle calls, which is critical for assessing call center performance. A comprehensive pivot table is a common method of displaying this information, especially when you want to compare the performance of different teams with respect to metrics such as average wait time (AWT), average talk time (ATT) and call count. These metrics are all useful for evaluating agent performance, typically for the purpose of setting benchmarks. Furthermore, these metrics provide the basis of detailed analyses of individual agents, allowing the dashboard user to quickly identify high-performing agents and those who need additional training.
Average Wait-Time Trends
AWT is the average time that an inbound call spends in the queue before being picked up by an agent. This metric is particularly important in today's fast-paced customer service environment, where minimal wait times are critical to customer satisfaction. The industry standard for AWT in traditional call centers is 80/20, meaning 80 percent of the inbound calls are answered within 20 seconds. However, modern call centers typically have even higher AWT standards.
Average Talk-Time Trends
ATT is the average amount of time that agents spend talking to customers. It's a measure of the customers' exposure to agents and is therefore one of the most important customer metrics for a call center. Lengthy call times typically indicate a slow wrap-up procedure, typically due it being overly complicated. A review of high ATT generally involves the use of a time-based distribution, allowing you to evaluate this metric across different time zones.
Additional Benefits
Dashboards also assist call center leaders in quickly gaining an understanding of the performance of their phone-based teams. They should provide a highly granular view of this performance, allowing them to evaluate individual agents. These dashboards should also display key performance indicators (KPIs) in real time, so managers can make decisions and resolve problems more quickly. Additional capabilities of call center dashboards include insights into staffing and training requirements through the use of cross-functional analytics and reporting. The ability to combine data from different sources and manipulate that data with widgets and other tools is essential for making the right decisions in a call center.
Best Practices for Reporting to a C-suite
Contact center managers are often surprised to learn that the performance metrics they consistently discuss with their C-suite aren't the ones they typically use in their daily Learning and Development (L&D) activities. The reason for this apparent dichotomy usually isn't due to poor awareness as information on L&D is readily available in articles like Learning's Role in Innovation or Thinking Beyond the Seat at the Table. The lack of metrics in L&D that interest C-level executives is more a question of why learning teams play such a small role in conversations with these executives rather than what L&D's role should be in the contact center. The answer to this question primarily lies in understanding the metrics that actually matter to the C-suite.
For example, PwC conducted a global survey of CEOs in 2017, in which about three-fourths of respondents considered the availability of key skills to be a major concern for the future growth of their organization. The only factors that ranked higher in this survey were uncertainty in the economy and overregulation. The availability of key skills also ranked in the top three in PwC's 2007 survey, showing that his concern isn't a passing trend. Deloitte's 2017 Human Capital Trends surveyed over 10,000 Human Resources (HR) leaders with over 80 percent of them citing careers and learning as important to their organization. This factor was the second most important trend in human capital management for this survey.
These studies clearly show that C-level executives and HR leaders both recognize the importance of ensuring their workforce has the right skills. Rapid advances in contact center technology make this need particularly strong, especially when it comes to retraining workers with outdated skills. Businesses continue to invest in training and managing their talent, so it's safe to assume executives believe these programs deliver tangible benefits. However, CGS's 2017 research into the priorities of L&D executives shows that aligning learning with business priorities continues to remain a top-three issue.
This challenge is largely due to the difficulties of quantifying the ROI of training, since the metrics that L&D typically measure aren't what C-level executives consider important. These executives usually focus on KPIs with measurable business impact, whereas L&D tends to measure the effectiveness of training more subjectively. The misalignment between the goals of the C-suite and those of L&D is particularly obvious in enterprise transformations involving a significant acquisition of skills. These projects typically limit the role of L&D to an administrative role instead of a vital business partner, resulting in analytics that don't fully serve the purposes of executives.
These analytics tend to be subjective because they're usually based on assessments from participants in training programs. The data therefore consists of participants describing things like their confidence in applying their newly acquired skills to their current jobs and their opinion about the relevancy of that training. Additional subjective data includes the quality of the instructor, effectiveness of training materials and the conduciveness of the training venue to adult learning. Another reason that these analytics aren't very useful to executives is that L&D rarely attempts to measure the effectiveness of training on job performance.
The best practices for remaining relevant and influential with the C-suite include the following:
Measure what's important
Know your business
Be proactive
Measure What's Important
Feedback from trainees on instructors, materials and venues is certainly important to L&D, but it isn't useful to the C-suite. A better approach is to collect data that objectively measures performance, rather than relying on inherently subjective feedback. Assume for this example that you want to train agents in specialized problem-solving techniques as part of a transformation project. In this case, you could enlist the aid of the finance department in measuring the change in the earnings before interest and taxes (EBIT) of projects that employees undertake after their training.
This approach will provide the objective evidence of training effectiveness that executives will find persuasive. Assume, for example, that a particular training course costs $4,000 per head but delivers $100,000 per head in EBIT. A CEO learning of these results will certainly be impressed by this training and is likely to approve similar programs in the future. This scenario illustrates a fairly straightforward procedure that contact center managers can follow to transform a minor role in a strategic project into a key position with high visibility to executives. Bear in mind that it requires a manager to follow the ABCD approach, which stands for Always Be Collecting Data.
Know Your Business
It's effectively impossible for any one person to fully understand all of a global organization's operations due to its extreme complexity. However, it is possible to be familiar with the KPIs used by executives, whether they lead a particular function, line of business (LOB) or geographic region. All businesses are unique, so their KPIs will be tailored to some extent, but they should always provide an objective measurement of that company's progress towards a goal. The types of objective data that executives find persuasive include the following:
Operations
Customer
Innovation
Regulatory
Revenue
Operational data for call centers includes error and complaint rates, cycle and lead times, and working capital ratios. Customer data consists of CSAT surveys, Net Promoter Scores (NPSs), churn and retention rates. Innovation metrics include the time and cost of new product introductions (NPIs), and new product portfolios. Audit effectiveness and compliance costs are the primary metrics for regulatory data, while EBIT, margin and sales are important metrics for revenue.
Be Proactive
A proactive approach to reporting to C-level executives involves learning about your company's strategic objectives for at least the next year. You also need to understand the most significant challenges in meeting those objectives. A company's strategic objectives usually find their way down to employee development plans at some point, so it can also be helpful to speak with managers of other departments, including plant managers, service managers and site managers. The focus of these conversations should be to learn their objectives and relevant skill deficiencies of their teams.
Useful insights into C-level reporting can also come from upper managers such as compliance directors, marketing directors, procurement managers and sales directors. Another helpful topic of conversation includes special projects for meeting strategic objectives that are already in the pipeline, along with the skills gaps that these projects are encountering.
Staffing
Strategically important projects routinely encounter the challenge of finding the right people to staff them. Many modern businesses are evolving rapidly, so these projects may exist in many departments such as compliance, HR, marketing, operations and sales. The best people in these departments are usually overcommitted, but you may also find available personnel with the necessary skills, even if they require some support.
L&D can provide the support these team members need to drive proactive programs that will future-proof the company. It's important to identify and staff key players in a strategic project before a pain point manifests itself. You also need to determine the training they require to overcome these challenges. Common topics of training for contact center agents include creativity, emotional intelligence, interpersonal skills, leadership and problem-solving.
Summary
Contact center managers routinely need to report their metrics to the C-level executives in their company. However, they often find those executives to be uninterested in the metrics that are so important in the call center. The solution to this problem is to relate these metrics to some type of revenue or expense, which is the primary focus of C-suite members. Aceyus analytics solutions provide this type of insight into call center metrics by using dashboards to view data in near real-time data from a centralized location.
Aceyus can provide a demo of our platform and how it can help your contact center improve your customers' experience. Contact us today to schedule your free consultation and learn more about reporting metrics to your C-suite.