Data reporting needs are ever-changing in today's contact centers, especially to meet omnichannel requirements. What's driving this trend are ultimately three major challenges in the contact center industry. Businesses are desperately trying to overcome these challenges to better compete in the marketplace. These challenges include:
Make customer experiences consistent across every channel. Every service channel provides a unique customer experience; however, the goal is to make these experiences as effortless as possible, regardless of the channel.
Service agent work is becoming increasingly complicated due to the automation of simple transactions. Recognizing this trend, businesses are trying to improve their employee experience, to better support agents in challenging interactions.
Data is stored in bits and pieces across multiple systems in an organization. It must be accessed, standardized, and combined to effectively tell the story of the cross-channel customer and agent experience.
Luckily, there is a data reporting platform that can help conquer these challenges due to its core technology. We're talking about the Aceyus Vault. The ideology behind the Vault is similar to that behind the Systems of Record and Single Source of Truth:
"A system of record is the authoritative data source for a given data element or piece of information."
"The source of truth is a trusted data source that gives a complete picture of the data object as a whole."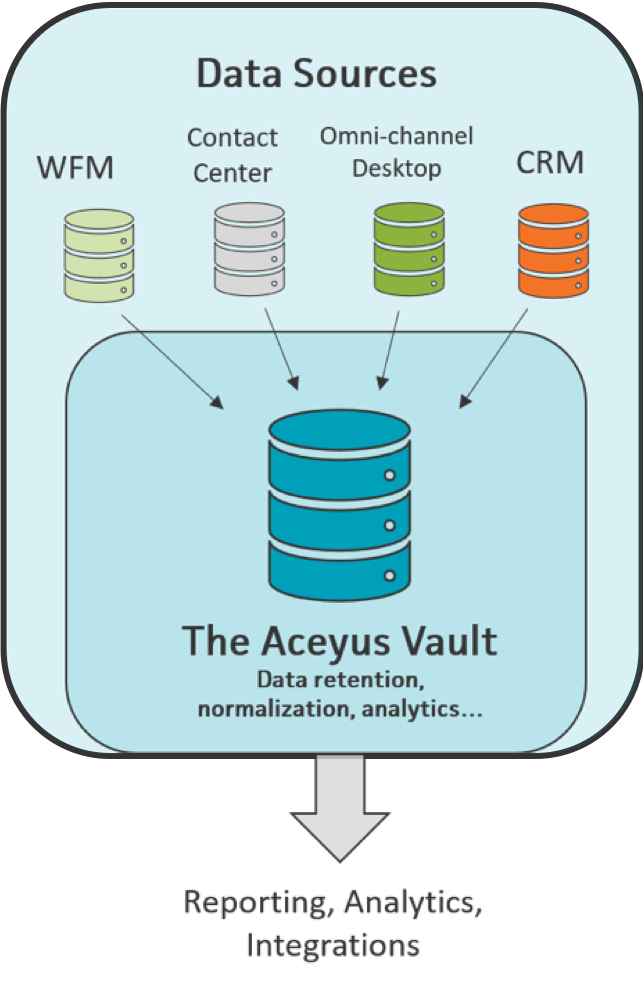 But, going back to the Vault…The Vault is a central data repository that replicates data from various sources. It maintains the cross-system data and normalizes it to provide actionable insights that are viewable from a single system, or "single pane of glass.". In this ecosystem, the root sources and the Aceyus Vault can be like Systems of Record, plus where all the data is created, updated, and deleted.
Because the Vault houses replicated information from all systems, it has the most comprehensive data set from which reporting and analytics can be launched. Like the Single Source of Truth, the Aceyus Vault has the most complete data picture, making it the contact center's most trusted source of information about the customer and agent experience.
Essentially, contact center infrastructure is outdated and now has to be remodeled to meet today's omnichannel requirements. The Aceyus platform was built to be scalable and flexible so it can meet the ever-changing data reporting needs of any complex contact center. The Aceyus Vault is crucial to its flexibility – accommodating any integration, reporting, or analytics to better understand what's happening in their customer and agent experiences, and plan for what's ahead.
To learn more about the Aceyus Vault, contact us and we'll answer any questions you may have.