The Contact Center's Handbook for Hiring and Retaining Top Talent

Tired of dealing with agent churn? We get it. Agent burnout and high turnover rates are incredibly costly for contact centers. Improving the employee experience, will assure you keep the talent you hire. Stop suffering and start retaining.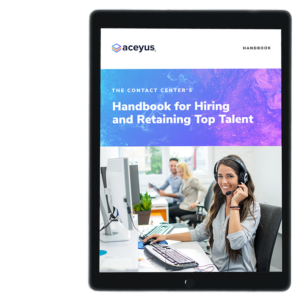 In this handbook, you'll learn:

Recruiting and retaining top talent

Why Employee Experience Matters

The Solution to the Recruiting/Retaining Challenges

How the Aceyus Suite of Solutions can help
Get real-time actionable insights and improve your customer journey.
Change the role of your contact center from a basic service to a competitive advantage. Use advanced analytics to make dramatic improvements in customer satisfaction.