Powered by Fivetran, Aceyus delivers mission-critical insights to its customers and accelerates go-to-market. In this case study, see how Aceyus leveraged our partnership with Fivetran to bring next-level dashboard visualizations to our customers. 
Key Takeaways
With Powered by Fivetran, Aceyus increases speed-to-market

Fivetran enables Aceyus to bring together multiple sources to paint a full picture of its customers' call center data

Connectors are easy to set up and modify and all come with 14 days of free use
Aceyus and Data
Aceyus provides contact center solutions designed to elevate the customer experience. Its flagship product, Aceyus VUE — short for visionary user experience — offers a real-time dashboard that allows businesses to access their contact center metrics within a single view.
Aceyus desired to add integrations to its platform for multiple new data sources. With these new integrations, it intended to provide a single, end-to-end view of corporate metrics for its customers, who are interested in mixing traditional contact center data like Cisco, with other sources like Google Analytics. To do this internally, Aceyus would have had to build integrations for each requested source to meet each of its customers' unique needs. This unscalable process would delay the speed at which Aceyus could deliver on its ultimate vision.
Traditional Aceyus Sources: Avaya, Cisco, Five9, Genesys, and Twilio
New Sources with Fivetran: Salesforce, Zendesk, Asana, Jira, Google Analytics, Social Media, and more
Powered by Fivetran
An existing Aceyus customer recommended Fivetran to enhance Aceyus' data integration capabilities. Rather than using engineering resources to build pipelines internally, Aceyus now uses data pipelines from Fivetran to onboard customer data that Aceyus did not traditionally include or support with their offering. The out-of-the-box connectors accelerate dashboard development and overall go-to-market speed for their product.
With the Powered by Fivetran model, Aceyus can easily add new integrations to meet customer needs with the click of a button. As CTO Ben Vesta shares, this enables Aceyus to focus on building the dashboards and the projects that truly add value for customers:
It didn't make sense for us to spend engineering resources building some of these connections in-house when Fivetran already does it so well. I view Fivetran as an easy-to-use extension of my own product team.
Additional Fivetran capabilities that Aceyus highlights include:
Straightforward process for requesting new connectors

Easy to modify connections as needed

14 days of free use for any additional new connectors

"Amazing" instructions on how to set up new connectors
Delivering Critical Contact Center Analytics
With the data delivered to the warehouse by Fivetran, Aceyus manages it and provides holistic insights back to its customers. Tim Eyre, CMO, shares how Aceyus gets to this unified view:
"We aggregate data from a variety of sources to provide simplified, user friendly dashboards with the ability to dive into the data with our state of the art reporting functionality. Our strength lies in our ability to integrate with a multitude of platforms, including the Contact Center, Workforce Management, Customer Experience, QA, Web Analytics and Customer Relationship Management."
Below is an example of how Aceyus uses these insights, including web traffic trends, sales opportunities generated and goal pacing.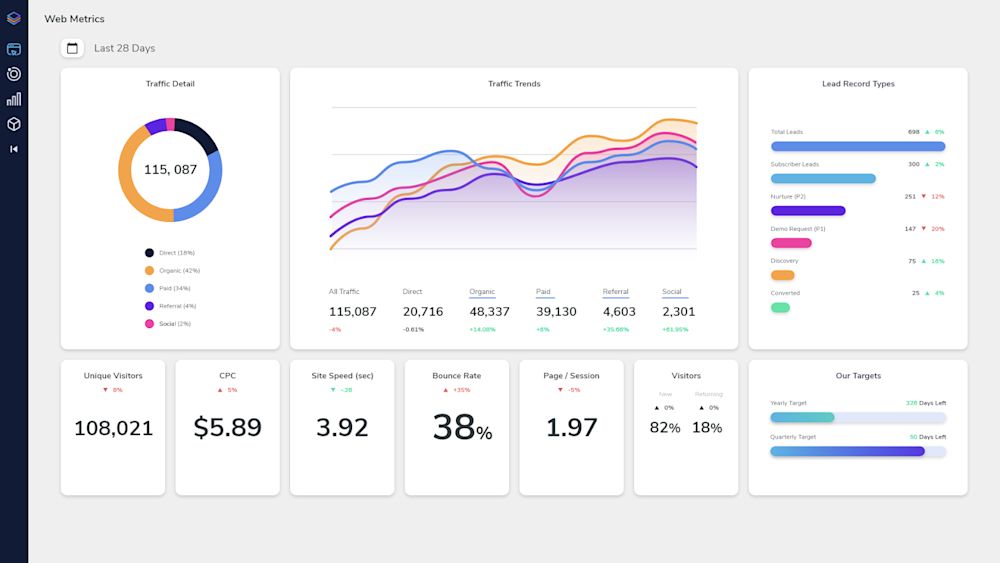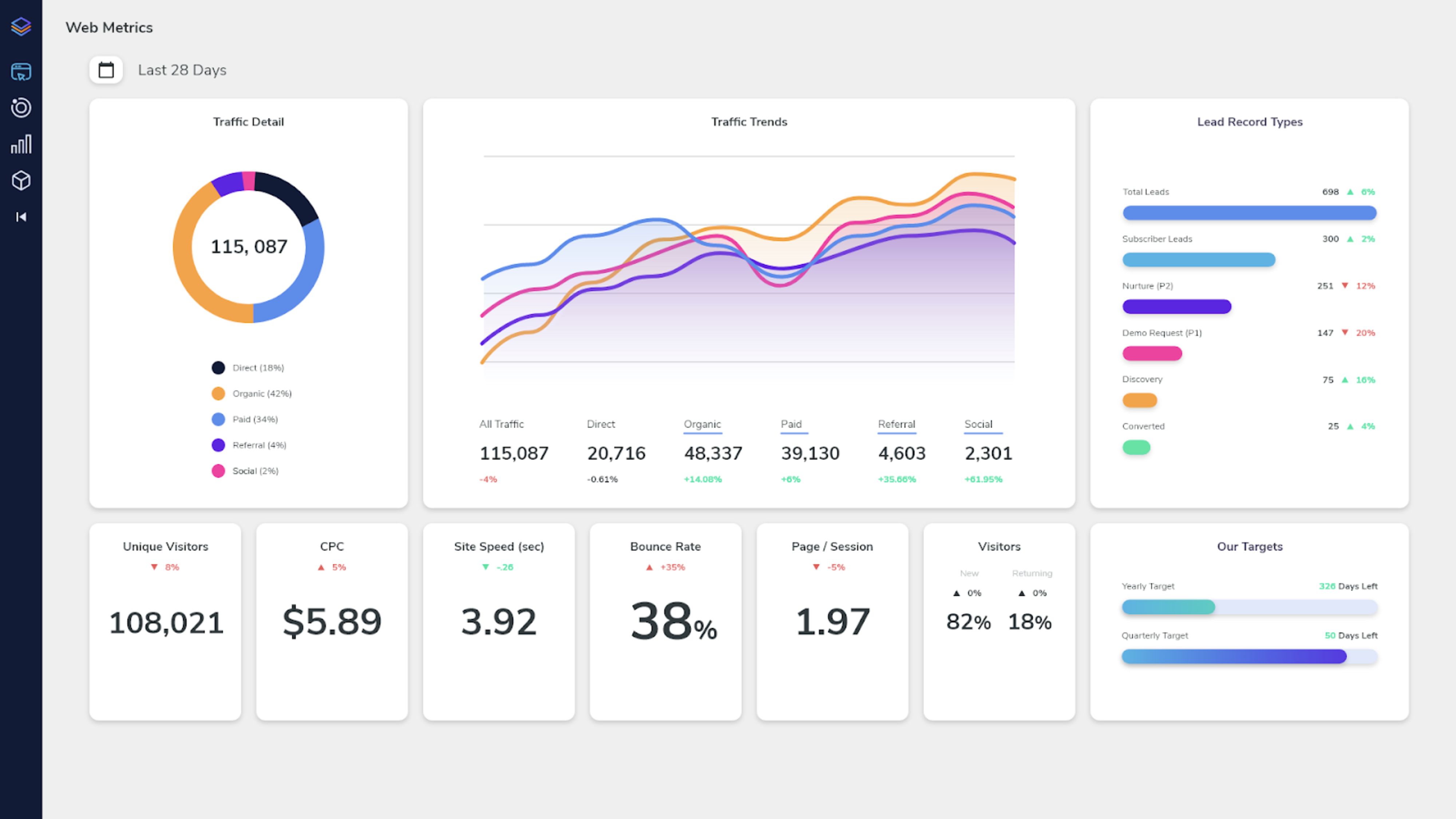 Want to learn how you can use Fivetran embedded connectors to deliver insights to your customers and speed up your go-to-market? Check out our Powered by Fivetran Resource Center or request a demo.
About Powered by Fivetran: Powered by Fivetran is an extension of standard Fivetran designed to be embedded into web applications and analytics portals. It includes all of the data replication and automation technology found in our core offering, as well as specific components designed to support the unique requirements of collecting data from an end-user.
Read the press release on the Aceyus and Fivetran partnership here: